Get 34 FREE Quilting Classes & Tutorials
You are cordially invited to the FREE online Quilting Summit 2022!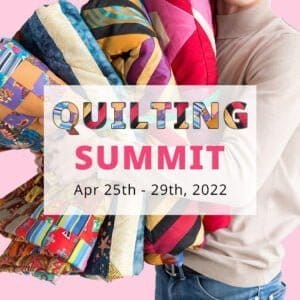 The Quilting Summit is a totally FREE online event the week of April 25th – 29th. This is where you'll get 34 free classes & tutorials from pattern designers, quilting bloggers, and one from me – Maple Cottage Designs!
I'll be teaching a class on our new Picnic Squares Table Runner Pattern that is perfect to feature 1 mini charm pack or scraps. It's beginner friendly and is a fun & easy pattern. I would love for you to be there and watch. I'll be showing step-by-step how to make it and giving helpful tips along the way.
You can join in from anywhere in the world, and tune in for any or all of the classes you are interested in ♡
You'll be learning from talented pattern designers, expert quilting bloggers, and highly-experienced quilters!
With quilting classes for the novice through to advanced quilters, there's something for everyone.
You'll learn everything from quilt as you go. . . color theory . . . how to make perfect curves. . . and more!
Follow along online, from the comfort of your own home for FREE from April 25th – 29th, 2022. After April 29th there is a fee if you want to watch any of the tutorials, so be sure to mark the dates!
You're going to love it and you can invite others to watch too.
Registration is open – Get your free ticket today!
You can see more pictures of the Picnic Squares Table Runner Pattern in my Etsy shop, just click the link.