Darling Pinwheels Quilt & Elephant Pattern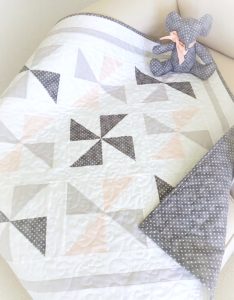 Darling Pinwheels PDF Quilt Pattern – & BONUS Easy Elephant Pattern! 3 Sizes Included – Baby Quilt Size, Throw Size & Twin Size.
Enjoy making this beautiful & easy Pinwheel Quilt Pattern featuring sweet pinwheels spinning amidst white sashing and striped border. Perfect size for a baby blanket, wall hanging, or table runner.
Then have fun making the Easy Elephant Pattern for someone just as sweet – only 2 pieces to cut out & sew!
* HIGH-QUALITY & Easy to Follow Step-by-Step Instructions
* FINISHED QUILT MEASUREMENT –
Baby Quilt Size – 38″ x 38″ (pictured), Throw Size – 58″ x 58″ (perfect for youth size) and Twin Size – 78″ x 78″.
* FINISHED ELEPHANT MEASUREMENT – 8 1/2″ tall
* QUILTING LEVEL – Beginner

To see more pictures or to purchase, go to my Etsy shop
To – Darling Pinwheels Quilt Pattern & Elephant Pattern
Copyright © Maple Cottage Designs