Loving Wishes Quilt Pattern – A Heartfelt Dream
Sending Love & Best Wishes to a New Baby and Their Parents! Create a cherished keepsake with the Loving Wishes quilt pattern that is adorned with loving hearts, sweet stars and dainty paths criss-crossing, perfect for welcoming a new bundle of joy!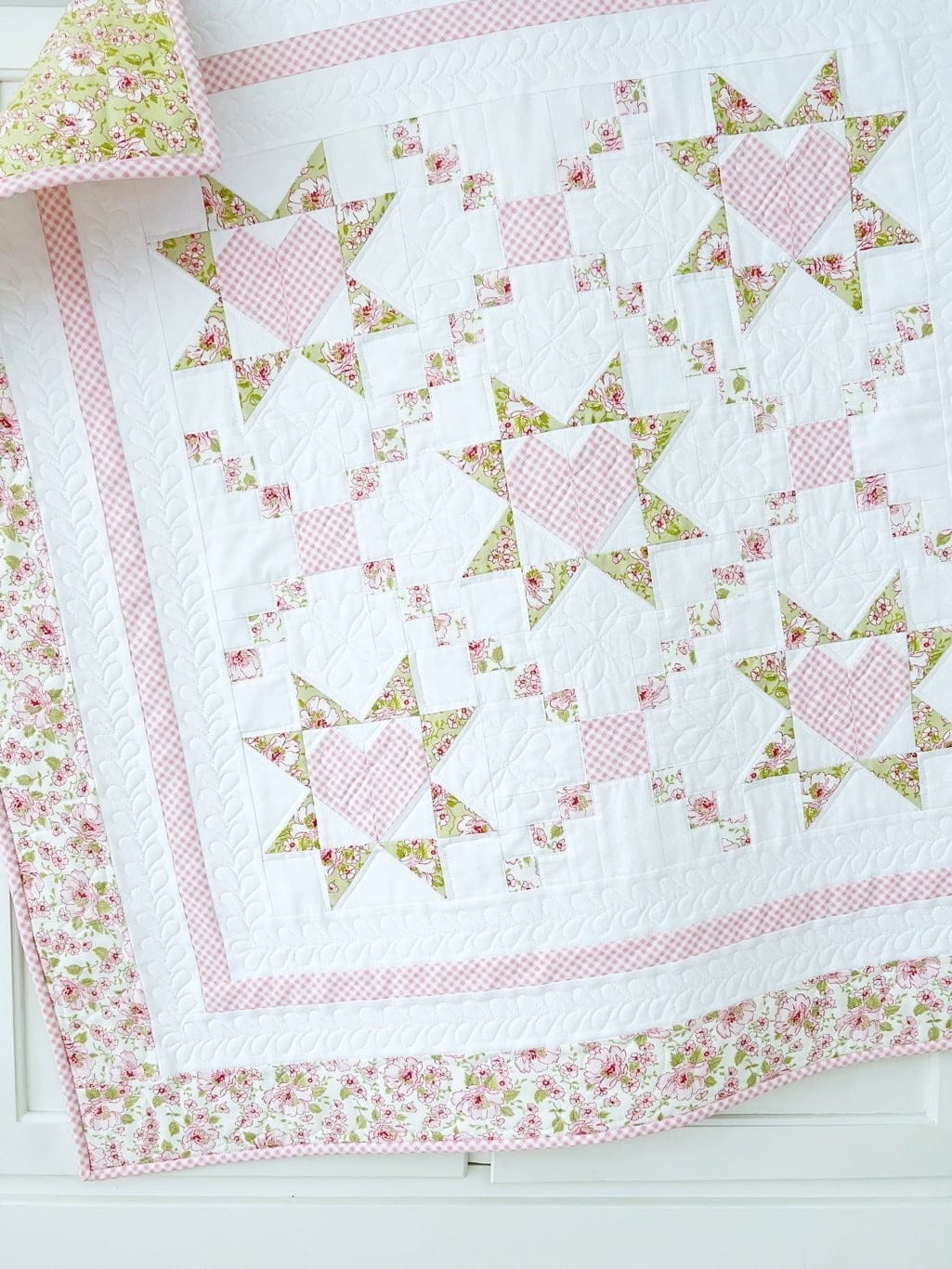 A new baby is coming to our extended family, so I had to design and make a special new baby quilt for this little one – the Loving Wishes Quilt. Our wonderful nephew and his wife are expecting their first child, and guess what? It's a girl!!!!
Loving Wishes Quilt Pattern – So Sweet
The beautiful Loving Wishes Quilt Pattern captures the feeling of wishing all the best for a little one. With dainty paths criss-crossing in the background, hearts are the center focus of each star. Gingham accents this quilt wonderfully and a sweet border surrounds the quilt. Capture the feeling of wishing all the best for a little one.
A Heart Quilt Pattern for All Ages
Shown here in pinks & green, this would also be darling in baby blues, or whatever color combination you like! You can make one of the larger sizes for a toddler or young child, or make a beautiful bed quilt for a charming farmhouse look. Pretty in pastels, Valentine reds, summertime prints, or whatever's in your stash.
Simply pick 3 fabrics plus a background fabric to make this lovely quilt! ♡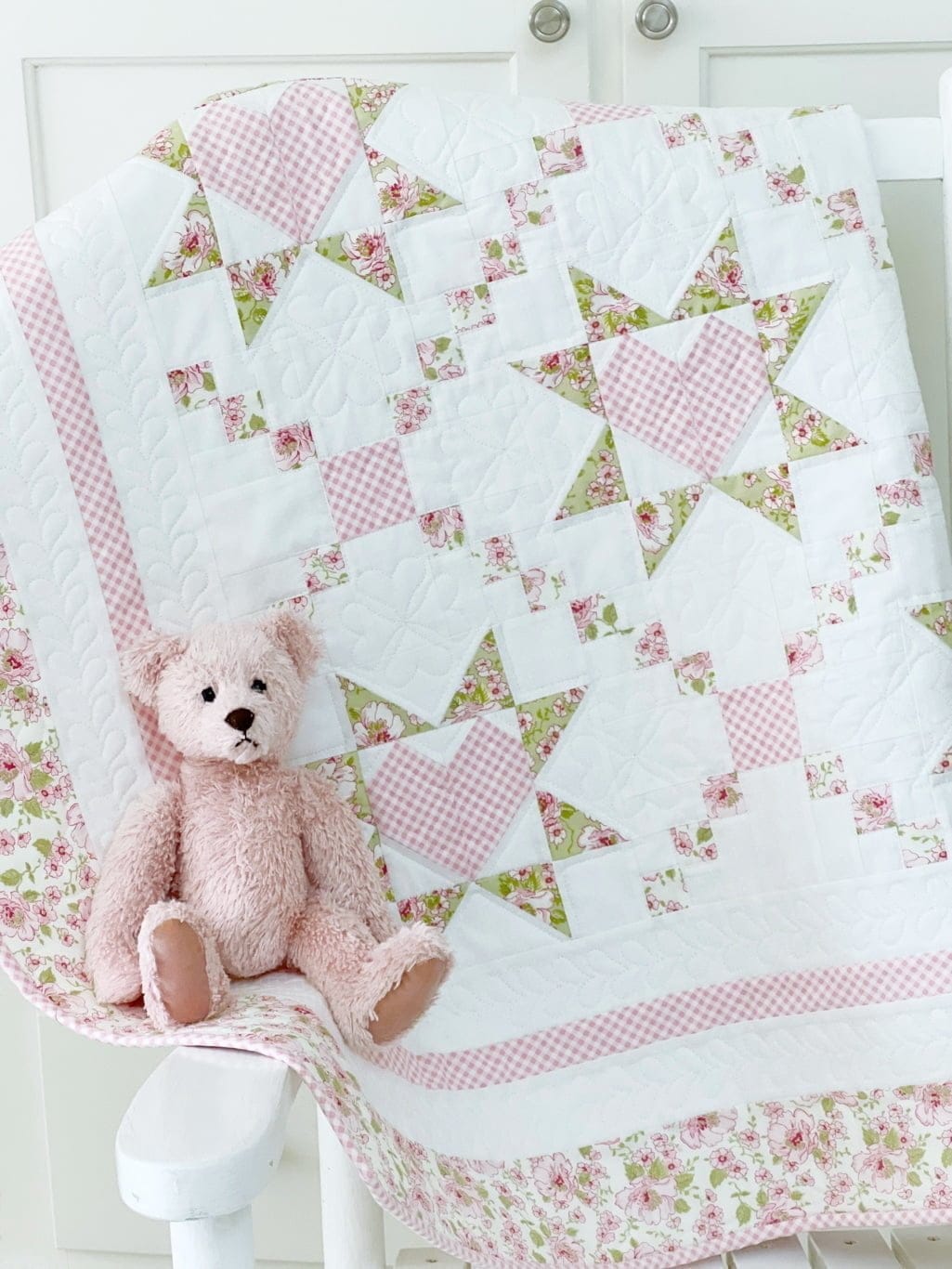 How I Quilted Loving Wishes
For this quilt, hearts were the way to go! You may recognize the heart designs from the quilting I did on the Sugarcoated Stars Quilt Pattern. I used this 4-Heart Stencil on the background to add the extra "love" that I wanted to give this quilt. It's so easy to do, you simply mark the stencil design with an erasable pen for fabric and then do free-motion quilting and follow the lines.
Quilting Tip – Start in the center of the hearts, work your way out and then go back into the center.
On the border, I used this Feather Border Stencil that actually looks like hearts and compliments the 4-heart stencil perfectly. For the rest I outlined the hearts, stars and Irish chain to make them look more 3-dimensional. I kept the quilting simple, so the quilt would be soft and cuddly.
(Some of these links may be affiliate links and I may earn a small commission off of the sale of these products. The price you are charged is not affected. Read our disclosure here.)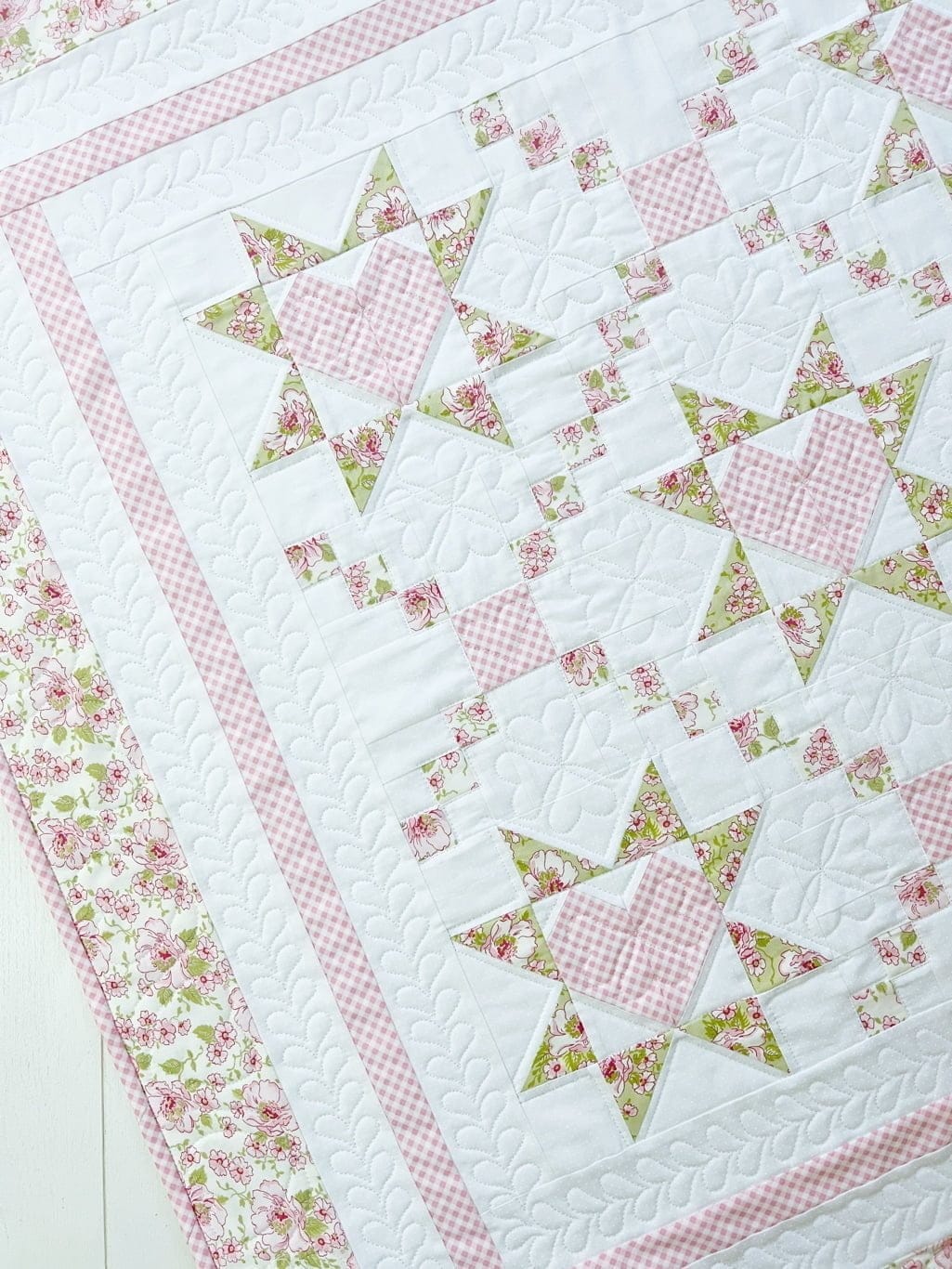 Quilt Pattern Details
Quilt Measurements: All sizes included in the pattern.

Baby – 40″ x 40″
Crib / Throw – 56″ x 56″
Twin – 72″ x 72″
Queen – 88″ x 88″
King – 96″ x 96″

Quilting Skill Level: Easy – Confident Beginner.
Fabric Shown: Grace by Brenda Riddle (of course any Springtime fabric would look gorgeous!)
Enjoy making this quilt for someone special in your life. It's perfect for a baby girl quilt or baby boy quilt, or make it for a beautiful bed quilt for a shabby chic or farmhouse look.
To see more pictures or to purchase Loving Wishes Quilt Pattern, simply click on a link.
(Physical Copies Available in the MCD Shop.)
stay connected & get all the latest!