Pretty Petit Fours Quilt Pattern
Pretty Petit Fours Quilt Pattern (PDF) – in 4 Sizes. An Easy Quilt Pattern with Charm Packs & Beginner Friendly!
Fall in love with this fun vintage-inspired quilt pattern featuring old-time blocks in a modern style.
Beautiful prints are set off with a crisp white background and coordinating border print. An optional Rick-Rack trim adds to the whimsy and beauty.
Perfect for a baby quilt, picnic blanket, throw quilt, or bed size quilt.
Simply pick your favorite Charm Pack!
* HIGH-QUALITY & EASY to Follow Step-by-Step Instructions and Color Diagrams.
Also includes Instructions Helpful Quilting Tips & Tricks.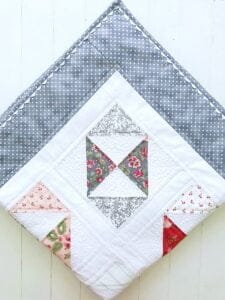 * FINISHED MEASUREMENTS – (All Sizes Included.)
Crib – 40″ x 50″
Throw – 50″ x 60″
Twin – 70″ x 80″
Queen/King – 90″ x 90″
* QUILTING LEVEL – EASY – Beginner.
To see more pictures or purchase Pretty Petit Fours Quilt Pattern in my Etsy shop, click on the link.
© Copyright Maple Cottage Designs