Sugarcoated Stars Quilt Pattern – So Sweet
This sweet quilt pattern looks so delicious – like iced sugar cookies! Sometimes it's the simple things that are just so beautiful!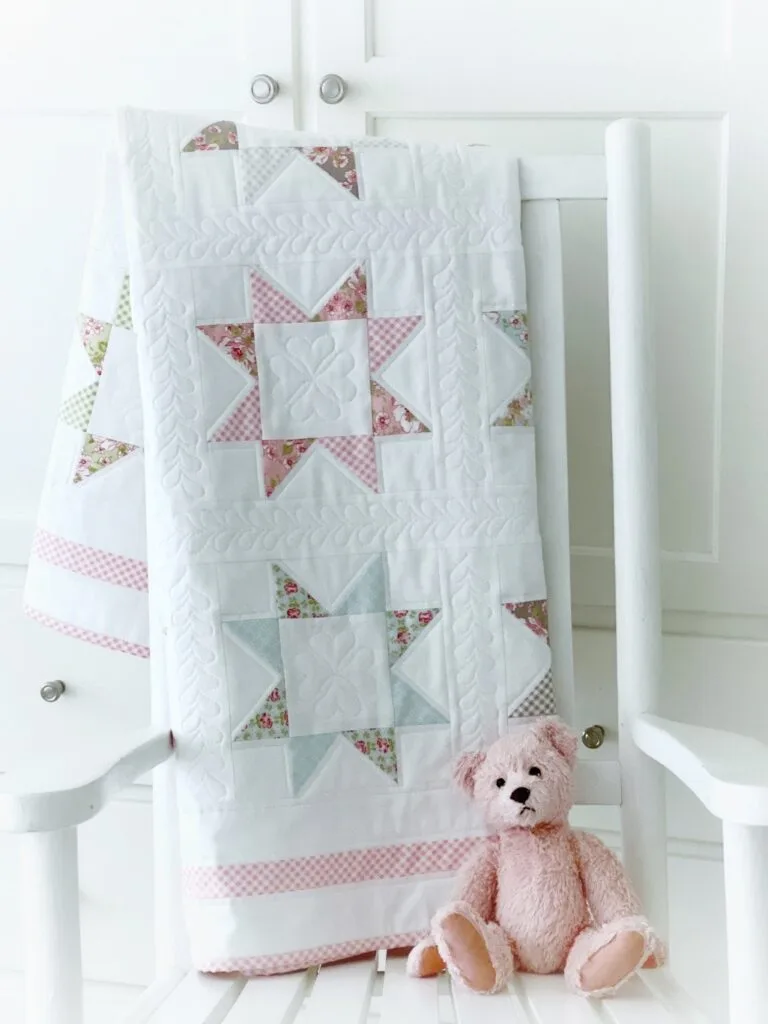 Charm Pack Friendly
Enjoy making our beautiful & easy Sugarcoated Stars quilt pattern that is charm pack friendly & beginner friendly! Featuring sweet stars in rows, this is a fun quilt pattern to make. Perfect for a baby quilt pattern, crib quilt, or beautiful bed quilt. 5 sizes included – Newborn, Crib, Throw, Twin & Queen Sizes.
You May Also Like – Loving Wishes Quilt Pattern!
Pick Your Favorite Charm Pack or Scraps
Make this darling quilt in pastels, summer prints, Patriotic prints or whatever you have in your stash. A great baby quilt pattern, Patriotic quilt pattern or even Christmas quilt pattern! Another favorite charm pack pattern that's great for beginners is Starlight Gardens.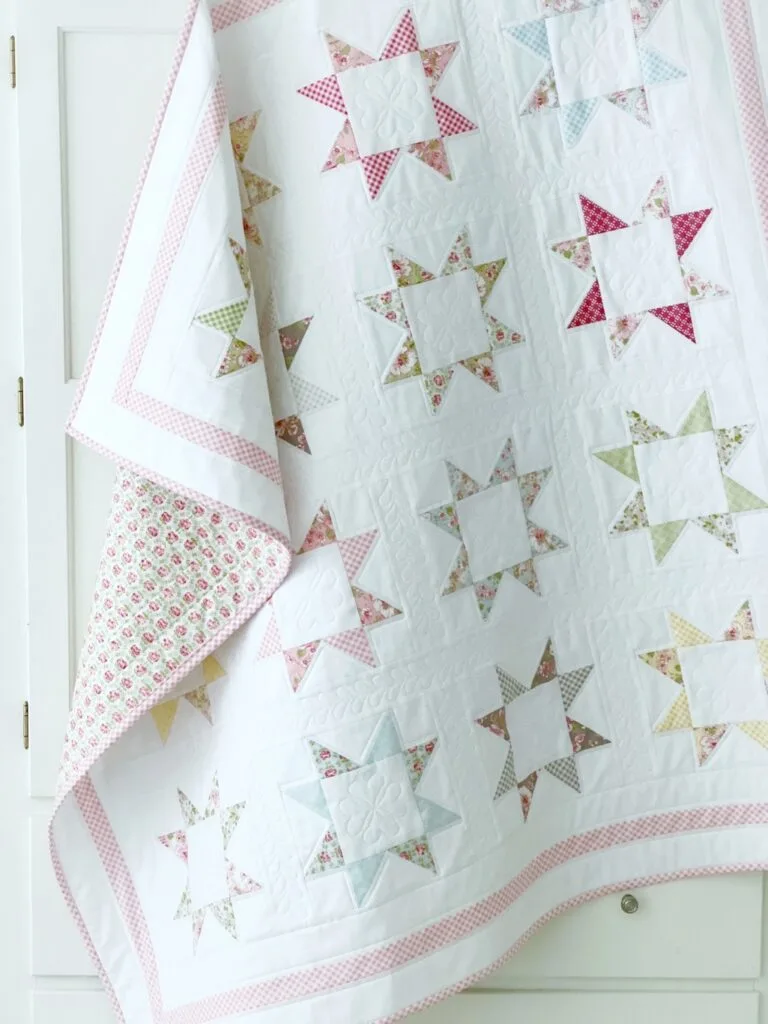 How I Quilted Sugarcoated Stars
For this quilt, I had 2 quilt stencils that I wanted to use, one for the center of the stars and one for the sashing. These quilt stencils aren't sold as a unit, but you have to admit they go so well together! (You may recognize these quilt designs from the Loving Wishes Quilt Pattern.)
For the center of the stars, I used this 4-Heart Stencil to add some sweetness to this quilt. It's so easy to do, you simply mark the stencil design with an fabric erasable pen or chalk pencil, and then follow the lines and do some simple free-motion quilting.
Quilting Tip – Start in the center of the hearts, work your way out and then go back in to the center.
On the sashing, I used this Feather Border Stencil that actually looks like hearts and compliments the 4-Heart Stencil perfectly. I kept the quilting simple and just did some outline quilting around the stars so the quilt would be soft and cuddly.
Update – Here's another place you can get the feather border stencil, it's the 1 1/2″ size.
(Some of these links may be affiliate links and I may earn a small commission off of the sale of these products. The price you are charged is not affected. Read our disclosure here.)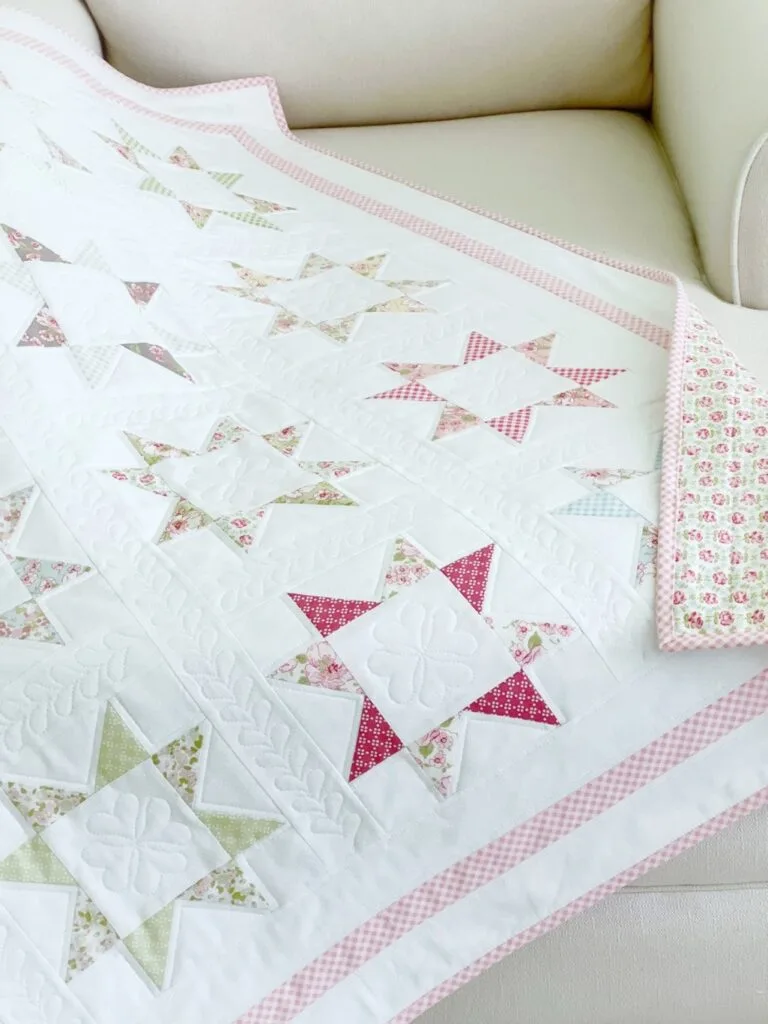 Quilt Pattern Details
HIGH-QUALITY & EASY to Follow Step-by-Step Instructions including color diagrams & quilting tips.
FINISHED QUILT MEASUREMENTS (All Sizes Included)

Newborn – 38″ x 38″
Crib – 48″ x 48″
Throw – 68″ x 68″
Twin – 78″ x 78″
Queen – 88″ x 88″

QUILTING LEVEL – EASY – Beginner.
To see more pictures or to purchase Sugarcoated Stars Quilt Pattern on Etsy, click on the link.
Digital & Physical Copies also available in the MCD Shop.
don't miss a single post, stay connected and get all the latest!