Parade Days are for Little Kids & Big Kids
Our vintage-inspired Parade Days Quilt Pattern is reminiscent of wonderful days spent watching parades! 🌟 You would pack everything from money for fair-food and rides (which you usually enjoyed after the parade) to a well-loved quilt to relax on and savor the day. You would get to see cousins and friends and spend the day in pure fun!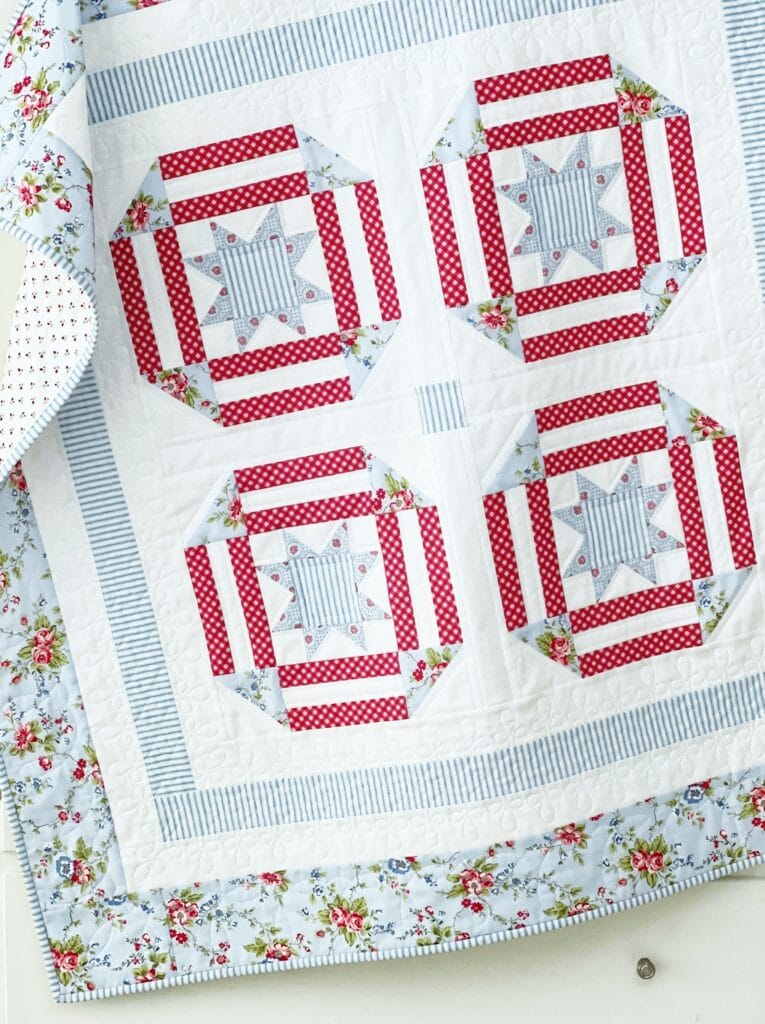 Savor the Moment
The inspiration for Parade Days is to savor the moment wherever you are. ❤️ You may be celebrating a new baby, welcoming a loved one home, or simply making a gift for yourself or a friend, this sweet quilt pattern with the "parade of stars" is perfect for any occasion. So whether you have a child or are a child-at-heart, this quilt pattern is beautiful & easy to make and 5 sizes are included.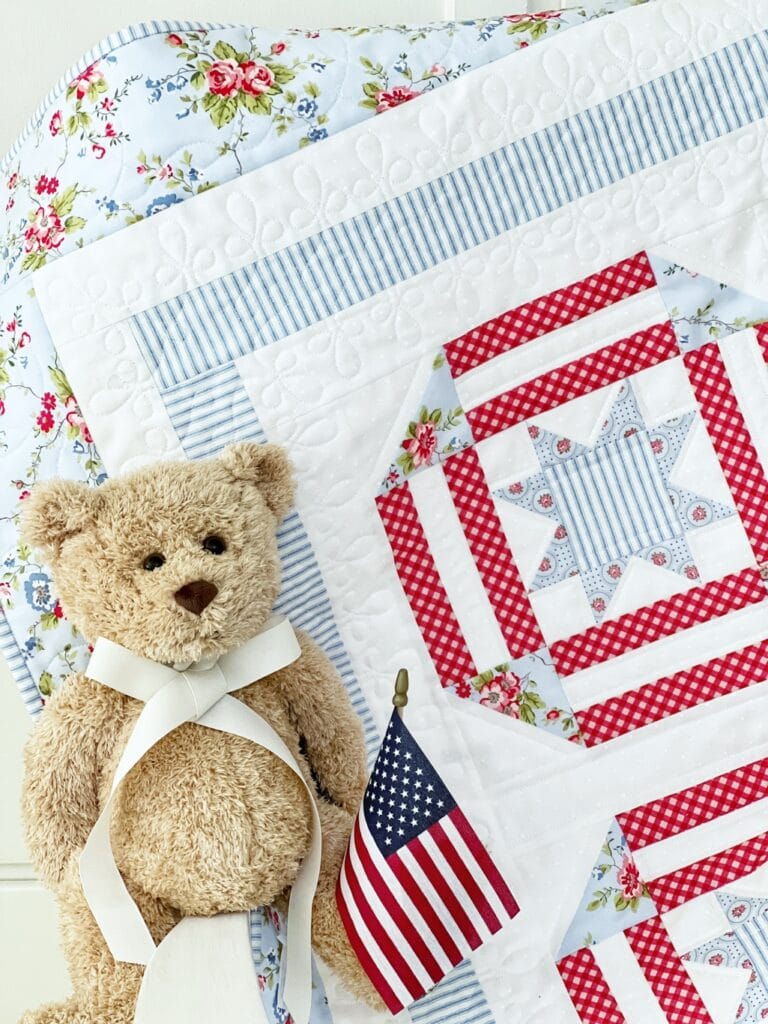 Shown here in beautiful fabrics from Sweet Liberty by Brenda Riddle this quilt would be gorgeous in any vintage-style Patriotic fabrics, or make it with rich Patriotic colors for a beautiful bed quilt. Change it up and make it in reds & greens for a Christmas quilt, or whatever you like. Simply pick 4 fabrics and a background fabric.
You may also like our Stars & Stripes Celebration Quilt Pattern shown in Patriotic prints!
How I Quilted Parade Days
I started quilting from the center out with my walking foot and did simple outline quilting for the blocks. I really wanted those stars to pop. Then I decided to use these 2 new loop quilt stencils for the borders and I love how the quilting turned out, they both look so perfect for this quilt!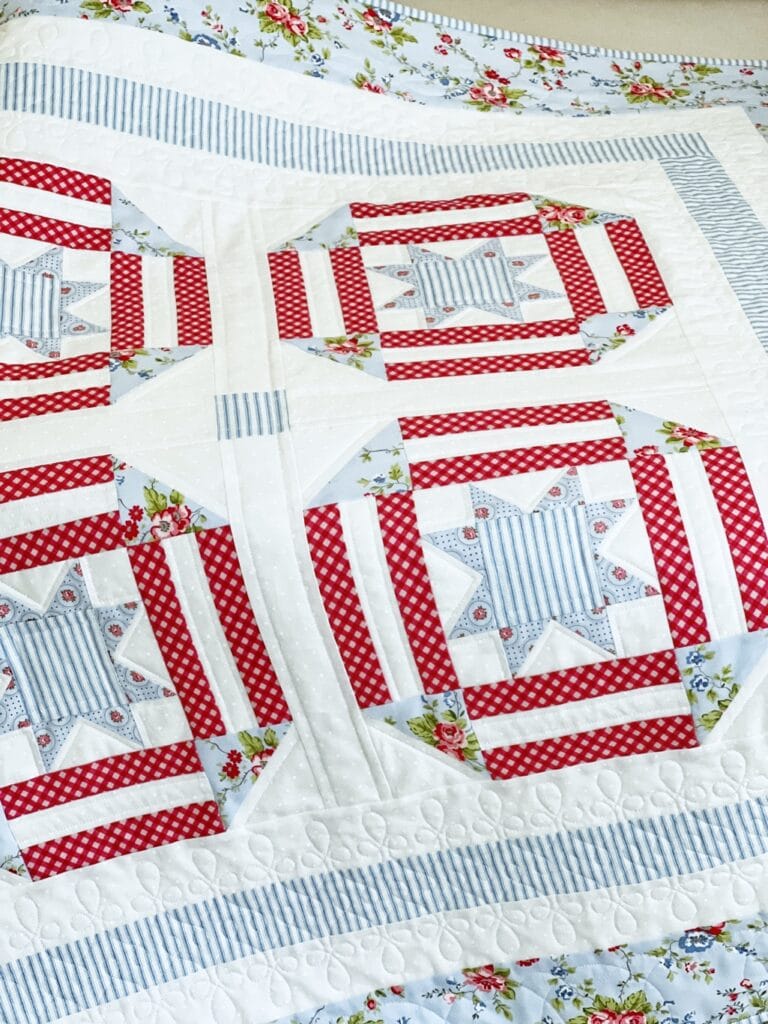 Free-Motion Quilting
For the Inner Borders, I used this 3″ Filigree Stencil (also sold here) and marked the design in one direction, then flipped it around and marked it going in the other direction to make a wider design. (Did you know you can do that? 😉) I put my free-motion foot attachment on my machine, lowered the feed dogs and started quilting some pretty little loops.
For the Outer Border, I used this 3″ Loop Stencil (also sold here) that coordinates with the smaller filigree loop perfectly. Using these quilt stencils made it so easy to get a beautiful design!
Quilting Tip – When marking stencil designs for borders, mark your corners first then blend the design over the length of your quilt border.
(Some of these links may be affiliate links and I may earn a small commission off of the sale of these products. The price you are charged is not affected. Read our disclosure here.)
Quilt Pattern Details
HIGH-QUALITY & EASY to Follow Step-by-Step Instructions including color diagrams and helpful quilting tips.
FINISHED QUILT MEASUREMENTS – (All Sizes Included)

Baby – 42″ x 42″
Crib – 46″ x 46″

Throw – 60″ x 60″
Twin – 74″ x 74″
Queen – 88″ x 88″

QUILTING LEVEL – EASY – Confident Beginner.
To see more pictures or to purchase Parade Days, simply click on a link.
(Physical copies available in the MCD shop.)
stay connected & get all the latest!