Simplicity Meets Sophistication in the Noteworthy Quilt
The Noteworthy Quilt Pattern is the perfect harmony of simplicity meets sophistication. Come and see how simple blocks are transformed into a stunning quilt design, blending the elegance of tradition with the sleek sophistication of contemporary style.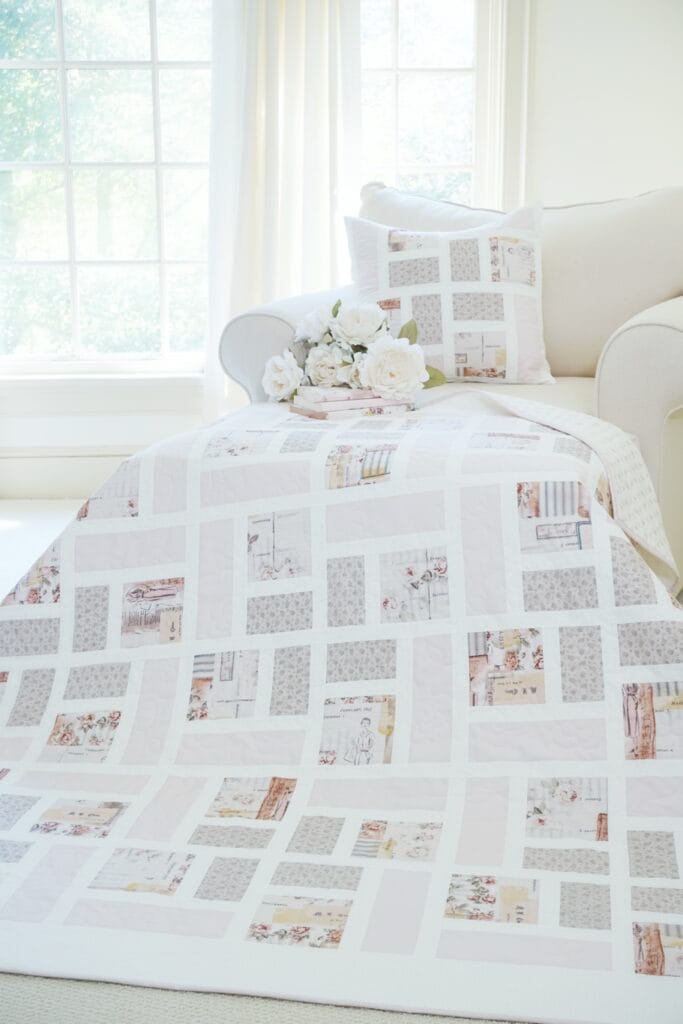 Start with Pure Solid Fabric
Choosing the fabric was my starting point and the Art Gallery Pure Solid fabric line was it. "Pure Color. Pure Softness. Pure Beauty" is their motto and it truly has a luxurious feel. I choose the Lavender Water color that is a delicate and soothing shade of lavender and pink. Think lavender blossoms.
Alongside it, the Tim Holtz Memoranda fabric brought a nostalgic charm to the design with its vintage-inspired print. Cherished handwritten letters, notes and dates on a calendar in a collage-style design created a sense of simplicity and sophistication. Working with this fabric was so enjoyable. You know me, I appreciate antiques and vintage finds and loved being able to feature them in a quilt. ♡
Add in Tradition
To add some traditional feel to this quilt, I pulled a taupe color from the Memoranda fabric and picked from the 3 Sisters collection called Sanctuary. Then I selected a white background print with a sweet embossed vine on it from 3 Sisters Bliss collection.
The design idea was simplicity and sophistication. I knew I had the design right when my daughter saw the quilt top and said, "Oh I love it, it's so modern!" So, what makes it modern? Is it because I used Art Gallery fabric, or is it the quilt design, or is it a combination of both?
That's for another blog post!
Making the Noteworthy Quilt
With just three fabrics and a complementary background fabric, you have the ingredients to craft the Noteworthy Quilt. The beauty is achieved through simplicity. In the pattern, I've included fabric suggestions for each part, but feel free to be creative and make it your own personal style. The three primary fabrics serve as the focal points. Meanwhile, the background fabric provides the backdrop for the main fabrics to shine. You can create a stunning quilt and enjoy making something beautiful with just a handful of selected fabrics.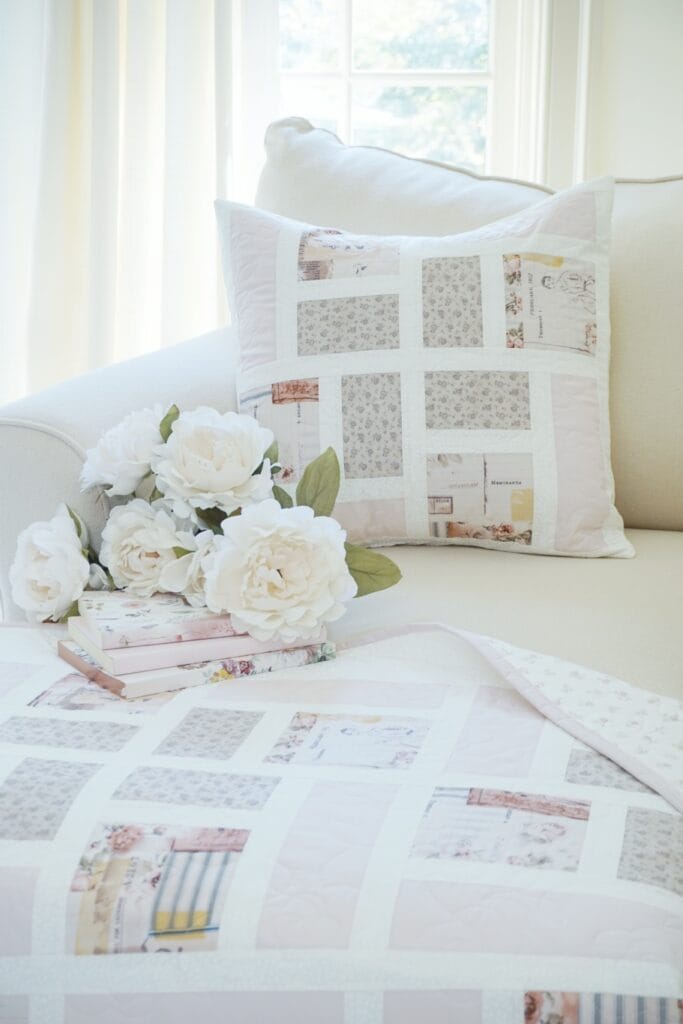 You might also like our Bella Rose Quilt Pattern that come with a Bonus Pillow Pattern!
Quilting the Noteworthy Quilt
The quilt's abundance of straight lines called for me to choose a flowing floral motif. Using a stencil, I traced the design and then free-motion quilted the design onto the quilt. The interesting thing is the stencil I used was actually from a tear-away paper design from Stipples Made Easy Pattern #306 Roses. I preferred a smaller sized design so I needed to have it scaled down by 25% and I also decided on a plastic template instead of a tear-away pattern. Turning to my wonderful husband and brother-in-law for help (they actually considered it a challenge), they scanned the design and then worked meticulously to scale it down and then created the plastic template that I needed on their 3D printers. After a few attempts, they gave me the final product. The most difficult thing – telling them the cut-outs in the design weren't large enough for a marking tool to fit! After a minor correction, I finally received the new stencil to use.
Quilting Tip: I would not recommend going to this extent for a quilt stencil, find a design that works better!
(Some of these links may be affiliate links and I may earn a small commission off of the sale of these products. The price you are charged is not affected. Read our disclosure here.)
Make it Your Own
Choose fabrics that speak to you. The Noteworthy Quilt is beautiful in pastels, neutrals, vibrant hues, etc. You can simply pick 1 main fabric and pull colors from it, or you can pick complementary colors for it or whatever you like. ♡
Quilt Pattern Details
HIGH-QUALITY & EASY to Follow Step-by-Step Instructions including color diagrams and helpful quilting tips.
FINISHED QUILT MEASUREMENTS – (All Sizes Included)

Crib – 43″ x 43″
Throw – 61″ x 61″
Twin – 79″ x 79″
Queen/King – 97″ x 97″

QUILTING LEVEL – EASY – Confident Beginner.
To see more pictures or to purchase the Noteworthy Quilt Pattern, simply click on a link.
(Physical copies available in the MCD shop.)
Enjoy!