You Can Machine Quilt eBook
You've heard it before, "It's not a quilt, until it's quilted."
In "You Can Machine Quilt-20 Tips and Tricks for Machine Quilting" I want to give you the confidence and skills to get those quilt tops you've made, or want to make, finished.
You can quilt them yourself on your own domestic sewing machine!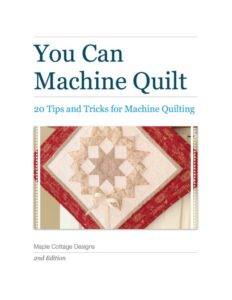 This newly revised 17 page ebook, written by myself for Maple Cottage Designs, will give you the tips and tricks for machine quilting on a domestic sewing machine that I have learned over the past 20 years, everything from supplies to designing to free-motion quilting.
You CAN Machine Quilt
I've taught people new to machine quilting and even quilters that own long arms helpful tips to make the finishing process as enjoyable as the piecing process. You don't have to own a long arm machine to machine quilt. If you have the skills to make the quilt top, you have the skills to finish it.
I want you to be able to say, "I quilted it myself!"
SaveSave
SaveSave
SaveSave